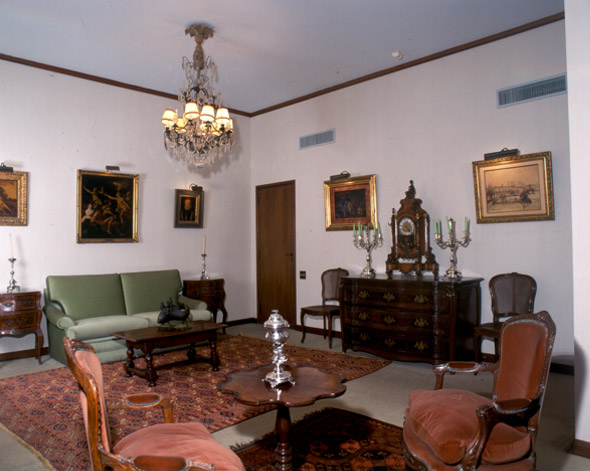 Although lacking a dominant style, this second-floor salon holds some important items, such as the fragment of XVI century Flemish tapestry showing Feuilles de Chou, whose cabbage-leaf tones give this room its name, together with color of the wallpaper and the upholstery. It is flanked by French polychrome wooden angels in Louis XIV style.
Some good quality paintings take the visitor to different places and times: Portrait of Lady Jane Grey by an anonymous English painter dated 1553; a curious mythological scene dating back to the Baroque showing Poseidon and Amphytrite, which is an oil on copper attributed to Flemish painter Van Balen (1575-1632); and the winter landscape entitled Effect of Snow at Éragny by Impressionist Camille Pissarro (1830-1903) and dated 1895. It is also worthwhile noting the delicate drawing of a Young lady with hat by Reynolds (1732-1792) and two small engravings by Rembrandt (1606-1669).
The Austrian furniture includes the elegant XVIII century marquetry desk dating back to the days of Maria Teresa; the French piece with its flowerwork, also in marquetry and bronze trim dating back to the days of Napoleon III during the XIX century; the French commode with three large drawers dating back to the XVIII century on which two Latin American silver  candlesticks stand, framing the eye-catching table clock in Louis XIV style.
Making this room even more colorful and attractive are the largely red Afghan, Tekkê Boukhara and  Feraghan carpets.
Up a few stairs, before  the boudoir, is the small elevator hall with a set of six tinted engravings showing maps of Great Britain and the Islands of Scotland with Latin inscriptions, by XVII century Dutch cartographer Willem Blaeu.