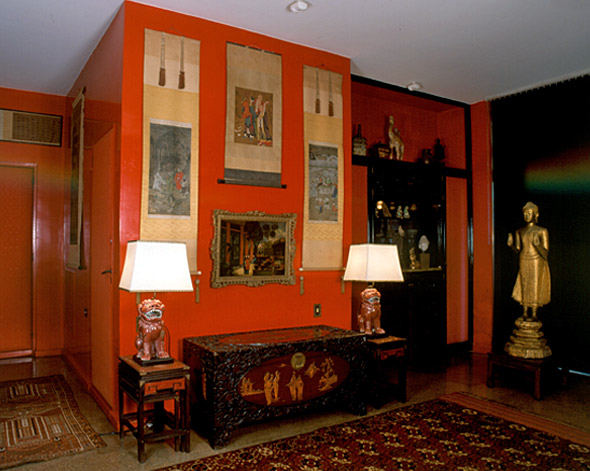 Integrated with the outdoors through large windows that open on to the garden, this room was decorated during the 1970s by Jorge Simões, with black curtains and red-lacquered walls – the color of Chinese temples and palaces – that serve as a background for important items in the Oriental Collection.
A red lacquer table (Ming Dynasty 1368-1644) holds the oldest item in the Chinese Collection: a bronze Kuei ritual vase (Shang Dynasty 1557-1050 BC), flanked by Chinese silver candlesticks entwined by dragons (XX century) .
Five painted silk scrolls on rice-paper hang on the walls, describing a polo game in classic Chinese inscriptions; a garden scene with women and children; four Buddhist Saints known as lohans; and two scenes from a popular XVIII century romance entitled On the Banks of the Lake. The painting commissioned during the XIX century is also interesting, as this oil on canvas offers a Western perspective painted by an Eastern artist.
Outstanding among the larger items with a wide variety of provenances are: the sculptures of deities; the bronze Thai heron dating back to the XIX century; the Chung-type bronze ritual bell (China, Chou Dynasty 1049- 220 BC) and the terracotta  camel (China, Tang Dynasty 618-907).
The red lacquer wooden cabinet painted with floral decorations (China, Ming Dynasty 1368-1644) and the Royal Boukhara carpet dating back to the late XIX century, also red, complete the décor.