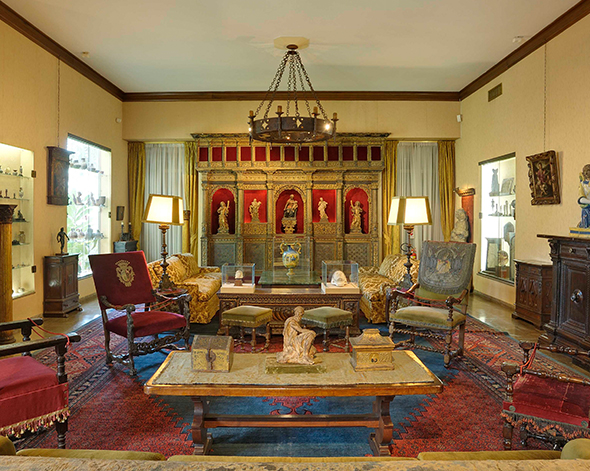 This is the largest room in the house, whose size is quite startling. Eva Klabin celebrated her birthday here on February 8 each year, welcoming illustrious visitors and displaying the marvels of her Collection. In this setting, the Collection – covering almost fifty centuries – is presented in all its exuberance. Six display cabinets feature items from Asia, North Africa, Pre-Colombian America and Europe, representing the cross-flows of cultures and civilizations on four Continents. An attentive glance immediately notes the magnificent collection of Renaissance and Baroque Italian art  that highlights the splendor of this setting, where items from  a wide variety of origins live together so harmoniously.
In the background is the XVI century wooden retable, carved gilded and  polychromed in Florence, which displays religious sculptures from this period in  five niches lined with red velvet. These works are by Florentine artists: in the center, a Madonna of the Unruly Children; in the outer niches, two angels bearing torches, and in the  two remaining niches, St. John the Baptist and St. John the Evangelist,  studies for larger statues.
Elegant examples of Italian Renaissance furniture decorate the entire room: chests, tables, wardrobes, closets, chairs, benches and velvet-covered arm-chairs arranged tastefully on  magnificent oriental carpets.
The primacy of  Italian art is quite clear in the paintings, such as the Tintoretto Portrait of Nicolaus Padavinus, the secretary of the Council of Ten in Venice,  dated 1589. Among the religious subjects, Madonnas prevail as this was a favorite subject of the collector. A special niche with a gilded Baroque frame is set aside for the most important work: Madonna, Child and St. John the Baptist attributed to the Florentine circle around Sandro Botticelli (XV / XVI centuries). This Collection also includes the following sculptures and reliefs: Madonna and Child from the studio of Lorenzo Ghiberti; Madonna with  Swaddled Child by Donatello; the lovely relief by Benedetto da Maiano portraying a Virgin with Child in a frame of glazed ceramic flowers and fruits by Andrea della Robbia; the two kneeling Angels are by Luca della Robbia, the uncle and master of Andrea.
The Egyptian showcase features items dating back to the Middle Empire (2061-1570 BC) through to the period of Roman domination (I-II centuries). The others feature items from a wide variety of cultures represented in the Collection, such as Pre-Colombian group, for instance, which features items from the Chimu and Nazca Civilizations of Peru, where whistling vases and bottles stand alongside male figures from Mexico and vases from Bolivia and Ecuador.