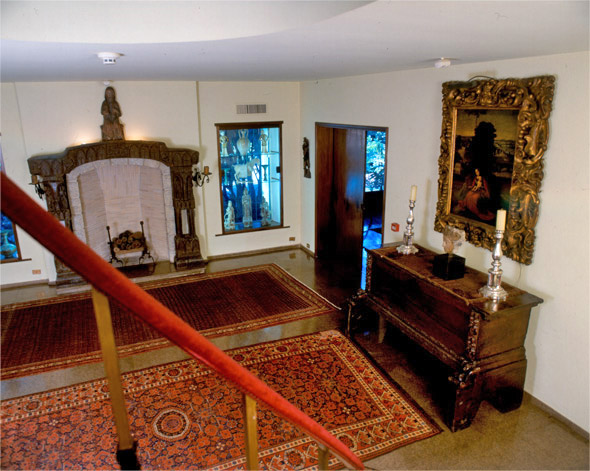 Right at the entrance, in the access corridor, the eye is immediately drawn to the canvas by Lasar Segall, painted during the 1940s and entitled Lucy in the Hammock. This is an emblematic introduction: consisting largely of classical works, this Collection is heralded by a painting that is highly representative of Brazilian Modern Art, as though Eva Klabin herself were inviting us on a trip through time, from today back into the past.  
The classical spirit of this Collection prevails in the Hall, bridging the transition between the Middle Ages and the Renaissance. Particularly outstanding is the huge gothic carved oak fireplace shipped from Austria, which sets the entire tone for the décor in this section. 
From pre-Renaissance Italy, the massive wooden chest retains an Eastern influence that appears in its carved front.  On it, flanked strikingly by a pair of XVIII century Flemish silver candelabra, is a polychrome stone crowned head portraying a medieval French aristocrat. On the opposite wall, a late French Gothic choir seat.
Two lovely religious paintings by Flemish Renaissance masters stand out: Madonna, Child and Landscape, attributed to Adriaen Isembrant (late XV century – 1551), and Madonna, Child and Two Angels holding the Holy Scriptures, attributed to Ian Provost (1465-1529).
Two glass-fronted display cabinets feature Chinese items of outstanding quality, heralding the impressive Oriental Collection that is scattered throughout the house, with the marble head of Apollo in a corner, a Greco-Roman piece dating back to the III – I century BC, indicating the path that will take the visitor to the Collections of Antiquity.